An Evening Honouring Women in Cutting-Edge Research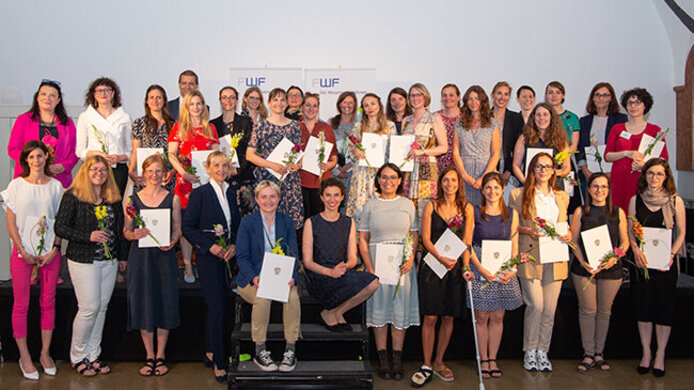 In the past year, the FWF supported a total of 49 female researchers in the postdoc and senior postdoc phases of their careers with funding under the ESPRIT, Elise Richter and Hertha Firnberg programmes. Science Minister Martin Polaschek underlined the outstanding achievements of the women scientists funded by the Austrian Science Fund FWF. "Supporting women in science is a particular focus for the Ministry of Science and the FWF. The aim is to provide fair opportunities for all researchers, and to support diverse career paths in the best possible way. The FWF's programmes make a valuable contribution to this end, offering attractive funding models for women," said the minister.
"We all have the common goal of further increasing the share of women in Austrian cutting-edge research, and of fostering culture change in institutions to achieve gender equality at all levels," said Barbara Weitgruber, director general for scientific research at the Federal Ministry of Education, Science and Research (BMBWF), in her opening statement at the FWF's award ceremony in Vienna's Museum Quarter.
"Especially for women's career paths, the period before and after a postdoc is of critical importance. This phase is when the highest numbers of women leave science. That is why we try to provide targeted support, with our career programmes and the opportunities they offer, for women to establish themselves as scientists. And as we can see today, successfully so," said FWF President Christof Gattringer at the presentation of the awards.
"On an evening like this, we women in science have every right to be proud of our achievements. At the same time, we all know that many more steps must yet be taken to make science careers less precarious, and to offer longer-term perspectives. I call on all decision-makers to further improve the structural framework for postdoc research," said literature scholar Sandra Mayer, speaking for all award winners, in her closing statement at Vienna's Museum Quarter.
A list of all the female researchers who received awards in 2021 can be found here (only available in German)
Networking and mentoring at Vienna's Museum Quarter
Formulas for success, lessons learned, and the future of funding women's careers in science were at the focus of discussions at the women's networking event that followed the presentation of the funding certificates on 23 May 2022. The main topics of discussion were challenges in terms of gender equality, and ways to break glass ceilings. Renowned women scientists shared their experiences, and engaged in in-depth discussions with their newly funded colleagues. The tenor of these discussions was that although much has been achieved, the goal of gender equality at all levels is still far from being attained.
The FWF event contributes to sustainably strengthening networks among outstanding female researchers in Austria. The annual award ceremony and the networking event are just two of many activities and measures intended to provide optimal funding for women, and to enhance their visibility. These include, for instance, gender equality guidelines, ensuring equal opportunities in decision-making procedures, and know-how transfer by means of concurrent mentoring.
Figures and statistics on the advancement of women in the FWF's career programmes
To date, 188 researchers have submitted proposals, with a total volume of 56 million euros, for the career programme ESPRIT, which was launched in 2021 and is specifically geared to postdocs. 52 researchers, among them 26 women (50%), were approved for funding in the amount of 15.4 million euros. In the past year, 73 female researchers submitted proposals, with a total volume of 23.5 million euros, for the Elise Richter Programme, the funding measure for female senior postdocs. Of these, the FWF approved the projects of 20 female researchers for funding in the amount of 6.1 million euros. In 2021, 80 female researchers submitted proposals, with a total volume of 19.7 million euros, for the now discontinued Hertha Firnberg Programme; the FWF approved funding for 20 projects in the amount of 4.9 million euros. Detailed statistics can be found here.
ESPRIT Programme with measures to promote women
Restructured in April 2021 following extensive consultations, the career programme ESPRIT includes several measures specifically designed to promote women. In the first tranche of funding for this highly competitive programme open to men and women alike, the share of women was 50%. Half of all project funding is granted to women, and mentoring and career development support for female principal investigators, as well as measures specifically designed to promote women, have been implemented and will be evaluated externally, with preliminary evaluation results expected in late 2022.
Further information
Gender issues at the FWF
Statistics and gender data for all FWF programmes
ESPRIT career programme
Richter career programme