Standing in Solidarity with Ukraine
Actual News
February 28, 2022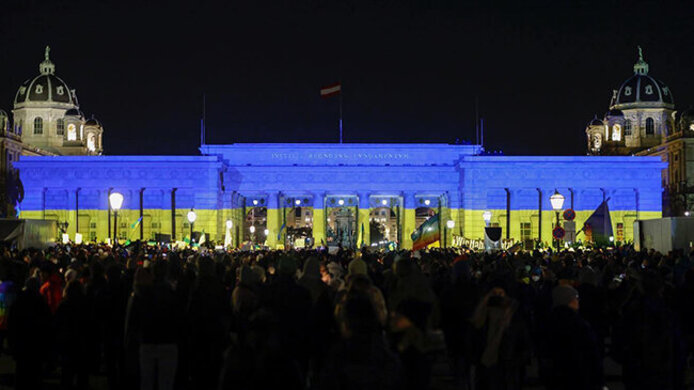 Statement by the Executive Board of the Austrian Science Fund,
28-02-2022
Peace in Europe is in imminent danger. The Russian Federation's attack on Ukraine constitutes a violation of international law. This ruthless act has not only caused immeasurable pain and suffering among the Ukrainian population, it is also aimed at destroying the democracy and freedom of a sovereign country. The FWF reaches out in solidarity to all of the people affected by the horror of war throughout the region in crisis and to all scholars and scientists in particular.
Science and scholarly research is predicated on being open to the world, and on exchange and peaceful cooperation. As a funding organisation, the FWF will do everything in its power to help researchers maintain their cooperation with Ukrainian colleagues throughout this difficult period. In so doing the FWF will continue to promote peace and democracy in the future.
In light of the difficult situation, the FWF is taking the following steps to support Ukrainian researchers:
Extensions for projects involving Ukrainian researchers can be expedited.
Reviews of new grant applications from and with Ukrainian researchers affected by the war will be fast-tracked.
Longer-term measures to support Ukrainian researchers will be discussed with Austrian universities and research institutions.
In response to the belligerent actions of the Russian Federation, the FWF will, for the time being, refrain from authorising new funding for research projects with Russian participation and suspend bilateral cooperation with the Russian Science Foundation RSF.
At the same time, the FWF Executive Board would like to express its respect for those Russian researchers around the world who are protesting and speaking out against the invasion of Ukraine.
The FWF welcomes all statements and measures taken by Austrian universities and other research institutions which are continuing their cooperation with Ukrainian partners and offering assistance programs for researchers during this difficult time.
Further statements and activities of Austrian science organizations (to be updated as needed)
Statement Science Europe